SUMMER HOLIDAY 'Multi-Sports Camps'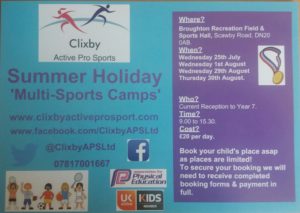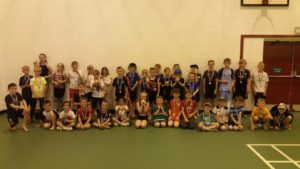 Broughton Recreation Field & Sports Hall:
Scawby Road, Broughton, DN20 0AB.
Wednesday 25th July
Wednesday 1st August
Wednesday 29th August
Thursday 30th August.
9.00 to 15.30.
Open to ALL from current Reception up to Year 7.
Only £20 per day.
Wear sports clothes & bring a pack up with plenty of drinks.
Programme of Activities:
Example Programme of Activities
To book your child's place you need to complete the registration and consent forms below and return along with full payment.
We will accept payment via BACS, cash or cheque (payable to Clixby Active Pro Sports Ltd).
Please get in contact for our address and bank details:
07817001667 or sean@clixbyactiveprosport.com.
Multi-Sports Camp Registration/Consent Forms:
Summer 18 Multi-Sports Camps Booking Form
It would be great to receive feedback from both parents and children to enable us to make future camps even more enjoyable.
We would be very grateful if you could complete and return the feedback form below.
Multi-Sports Camp Feedback Form: